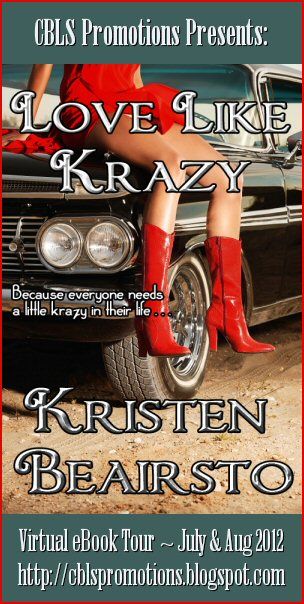 Love Like Krazy
by Kristen Beairsto
Self-Published
Contemporary Romance
Available at:
Amazon
|
Barnes & Noble
|
Smashwords
Blurb:
Most women would probably be offended at being mistaken for a stripper, but Kit Conner finds the situation rather comical. But despite Kit's outward appearance of being able to handle just about anything, few are aware of the dark secrets Kit harbors and the demons she hides by cloaking herself in a wall of crazy antics and an outrageous fashion sense. As she returns to her hometown to play the role of maid of honor for her best friend's wedding, Kit's determined to hold on to those she holds dear for as long as she can. The only thing standing in her way is the absurd attraction she feels for Benjamin Mathews.
Benjamin Mathews is a guy who appreciates things to be slow, steady, and safe. Ben knows many consider him to be boring, but he's happy with his life and loves the horse ranch he runs with his brother. The only thing he worries about is surviving the planning of his brother's wedding.
With a wedding between Kit's best friend and Ben's younger brother fraying the nerves of everyone involved, Kit's return home brings out her dark secrets into the light. The emotional overload starts to weigh on Kit and she begins to see Ben as an anchor. As their relationship intensifies, Kit struggles to believe they might actually have a future and soon finds herself fighting for the love she never thought possible.

VBT Schedule:
Jul 19: Literary Works (Guest Post)
Jul 23: Deep In The Heart Romance (Interview)
Jul 25: Sandra''s Blog (Guest Post)
Jul 26: whoopeeyoo :D (Guest Post/Review)
Jul 31: Literary Works (Guest Post)
Aug 1: Aspired Writer (Guest Post/Review)
Aug 6: Carly Fall - Where Fantasy Meets Romance (Guest Post/Review)
Aug 7: read that also (Guest Post/Review)
Aug 8: Have Novel, Will Edit (Interview)
Aug 9: Crazy Four Books (Review)
Aug 12: I talk books! (Guest Post/Review)
Aug 15: Full Moon Bites (Interview)
Aug 17: Cocktails and Books (Guest Post)
Aug 18: Jersey Girl Book Reviews (Guest Post/Review)
Aug 20: Black Hippie Chick's Take on Books & The World (Guest Post/Review)
Aug 23: Queen of the Night Reviews (Guest Post/Review)
Aug 24: Natalie-Nicole Bates (Guest Post)
Aug 25: For The Love Of Film And Novels (Guest Post/Review)
Aug 28: Nette's Bookshelf Reviews (Review)
Aug 29: Delighted Reader (Interview/Review)
Aug 30: Rachel Brimble Romance (Guest Post)

Tour-Wide Giveaway:
Follow this VBT and enter the tour-wide contest at each participating stop for a chance to win one of five eBook copies of Love Like Krazy. More entries = more chances to win!
a Rafflecopter giveaway

About the Author:
An avid reader since she first learned to read, Kristen discovered romance novels as a teenager. And what can she say? She was a goner. Kristen discovered she's a sucker for a good love story, strong characters, and that all-important happily ever after. She wrote her first novel length story at the age of eleven and after falling in love with romance novels, her writing started featuring romantic elements.
When Kristen's not reading or writing, she's hanging out with friends, family, her two rambunctious daughters, and her exceedingly tolerate husband. She's also a huge New York sports fan.
Website:
http://www.KristenBeairsto.com
Facebook:
https://www.facebook.com/AuthorKristenBeairsto
Twitter:
https://twitter.com/AuthorKBeairsto